One ferry
two shores to explore
Discover a beautiful way to enjoy a break by bike, motorcycle or or car, taking a relaxing river ferry!
Cross to the other side
Connecting the regions of Lanaudière and Montérégie, the ferry invites you to explore the other shore, where splendid scenery and agritourism circuits await you. Come taste local products and soak up the lush nature these two regions have to offer.
Free for children this summer
This summer, children age 15 and under accompanied by an adult can take the Sorel-Tracy–Saint-Ignace-de-Loyola ferry for free. Come aboard! Explore the Berthier and Sorel islands and discover their hidden treasures!
Learn more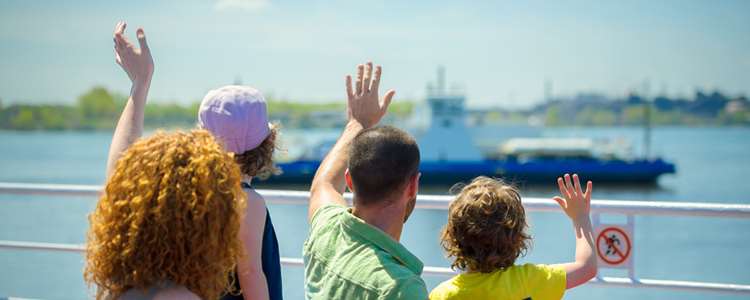 Our five agritourism circuits take you through some of the region's most beautiful landscapes, introducing you to our local specialties.
Learn more

Statera is an immersive multimedia experience in three parts taking place on the shores of the archipelago of Lac Saint-Pierre in Sorel-Tracy.
Buy tickets

With 222 bird species and various interpretation trails and footbridges, this is the perfect place to explore nature in all its glory.
Learn more

Located on the borders of the St. Lawrence River and the Richelieu and Yamaska rivers, the region of Sorel-Tracy is an ideal place for water adventures.
Montérégie – bursting with local flavours and outdoor fun
Montérégie offers over 1,000 km of biking trails, several agritourism circuits and a host of captivating parks and historic sites.
During 3 hours, experience a one-of-a-kind boat excursion in the Sorel Islands aboard the Randonnée nature. 
Learn more

Make surprising and original discoveries regarding the numerous heritage features of the Sorel-Tracy region, including the Lake Saint-Pierre archipelago.
Learn more