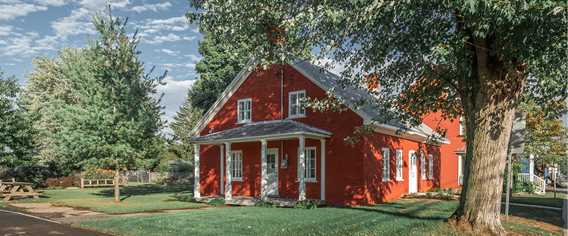 Fabien Proulx-Tremblay
La Maison de la Nouvelle-Acadie
A cultural space
Since July 26, 2018, the public is invited to visit the Maison de la Nouvelle-Acadie, which presents the extraordinary adventure of the Acadians who came to settle in the Lanaudière region in the late 18th century.
This project is the result of three long years of work orchestrated at the beginning by the dream of the municipal councillor Mrs. Isabelle Marsolais and the mayor, Mr. Pierre La Salle. They wanted to develop the Acadian component of the Municipality. With the presence of the monument dedicated to the deported Acadians, the establishment of a museum dedicated to this important page of history was the logical continuation of the project.
The Maison de la Nouvelle-Acadie is located in the heart of the municipality's village core, in the old house known as the beadle's house, renovated to integrate the facilities, a decision made possible thanks to the sale of the house by the Desrochers sisters to the municipality.
A unique content
The permanent exhibition, spread out in eight museum interventions, lifts the veil on the issues and the particular context of the deportation. It is presented in an evolving form and offers visitors a true epic through the settlement of the Acadians in the Sulpicians' seigneury and its development.
Temporary exhibition 2021: Making a killing: Diary of a culture gone up in smoke 
The Maison de la Nouvelle-Acadie in Saint-Jacques is proud to re-open its doors to present, from May 22 to October 10, 2021, a brand new temporary exhibition on a significant part of its economic and agricultural history: the cultivation of the tobacco plant.
Taking the form of a tobacco grower's logbook, this fascinating retrospective tells the story of tobacco production in Montcalm-Joliette County, from its rise in the late 19th century to its decline in the early 2000s.
Extracts from newspaper articles and treaties, numerous photographs and various artifacts take us to the heart of a culture that, before going up in smoke, remained for a long time the livelihood of many local families. The testimonies of former tobacco growers and workers, now converted, also shed an enriching and sensitive light on these chronicles of New Acadia's history.
Services
Schedule
Schedule
Operation period: From Victoria Day to Thanksgiving. Wednesday to Sunday.
Rates
Rates: Free for residents of New Acadia with proof of residency (Saint-Jacques, Sainte-Marie-Salomé, Saint-Alexis, Saint-Liguori).Adults (13 years and over): $5 Children (6 to 12 years) : $3 Children (0 to 5 years): free